Sree Mookambika Institute of Dental Sciences
Sree Mookambika Institute of Dental Sciences (SMIDS), founded in 1999, is one of the fastest growing Dental Colleges in South India. It was founded by great visionaries, Dr. Velayuthan Nair and Dr. Rema V. Nair, with the chief aim of providing impeccable dental treatment facilities to the surrounding semi- rural community. It is managed under the aegis of the Padanilam Welfare Trust with Dr. R. V. Mookambika and Dr. Vinu Gopinath, the other trustees.
Nestled among the serene hill-scapes of Kanyakumari District, Tamil Nadu, the lush green, eco-friendly 73 acre campus is a vast educational, research and service complex comprising of Sree Mookambika Institute of Medical Sciences, Sree Mookambika College of Nursing and Allied Health Sciences. It is the only dental college under The Tamil Nadu Dr. M G R Medical University which has a medical college within the same campus.
SMIDS headed by Dr. Elizabeth Koshi, Professor and Head of the Department of Periodontics, who is a sculptor of human character, a great academician and a capable administrator.  The Institution has a longstanding record of accomplishments in dental education through its outstanding graduates and through the health care services they deliver to their patients. The college educates the future dentists and dental specialists through its undergraduate Bachelor's of Dental Science (BDS) course along with post graduate level Master of Dental Surgery (MDS) professional degree in various dental specialties. MDS was started in the Department of Prosthodontics Crown and Bridge in 2009, Departments of Conservative and Endodontics, Periodontics and Implantology, Oral and Maxillofacial Surgery and Orthodontics in 2010, and in the Departments Oral Medicine and Radiology, and Oral Pathology and Microbiology in 2012.
Several initiatives designed to update facilities, are being undertaken by the management, to keep up with the growing demands of technology, research, and teaching, and to offer optimal care to patients, to maintain status as a premier academic institution. The Institution is also consistent with statutory requirements of the Dental Council of India.
SMIDS has built a remarkable cadre of faculty devoted to providing dental students with the full range of clinical and basic science training in order to prepare them for key roles in the healthcare system. The staff is also making dramatic progress in various research projects and students have shown the potential to become highly skilled, technically competent and quality dental care practitioners – passionate, ethical, kind and sensitive to the service needs.
We will continue to build upon our strengths as a leader in education and to provide quality dental services to a wide range of people in the region.
To prepare highly qualified healthcare professionals, educators, and scientists to promote optimum oral and general health through excellence in education, professional development, innovative research, patient-centred care, and community service.
To be the premier in dental education, research and patient care and to be a key ally in enhancing the oral health of the community thus improving overall health. 
The Sree Mookambika Institute of Dental Sciences commits to:
Patient Friendly, Caring and Compassionate
Commitment to Excellence
Dignity, Integrity and Responsibility
Embrace innovation, Promote professionalism and Leadership
Promote Collaboration, Diversity and Social Responsibility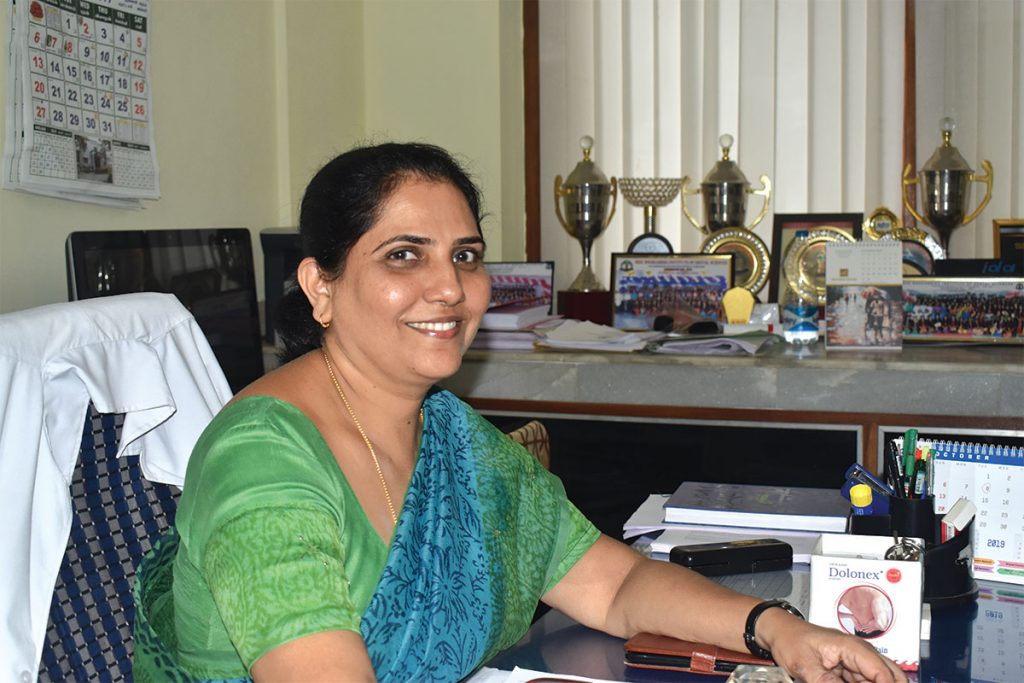 We at Sree Mookambika Institute of Dental Sciences (SMIDS) aim to provide exemplary education, service and research that promote patient centered, collaborative care and advocate for the elimination of health disparities with value-based education. Our institution is one among the top Dental Colleges in Tamil Nadu and has been very active in research and publications. The culture of research is inculcated during the undergraduate training program onwards.
SMIDS was started in 1999 with an intake of 60 students each year for Undergraduate studies and 16 students per year for Post graduation in various dental specialties.  All the postgraduate departments are well equipped with the latest state of the art materials and equipments. They are headed by very experienced Professors in Postgraduate education, and assisted by well qualified Assistant Professors, Readers and Lecturers.
If you choose this institution, our experienced and highly qualified faculty will centre on quality academics, ethics, and all round development to mould students into excellent professionals to promote the progress of human health. Our faculty is excellent in sharing its wisdom and insights to impart skills that promote student learning and welfare.  We will help you discover your full potential by exploring the wealth of the quantum of knowledge available.
We at SMIDS, provide a continuous and progressive learning experience not only to the student but to the faculty as well. Students are educated not making them just specialists in the field of Dentistry but socially responsible individuals too. Students are encouraged to participate in academic, co- curricular, cultural and sports events both in the campus as well as in State and National level.
Our campus is student friendly with no incident of ragging till date. Having nurtured students for nearly two decades the institution is proud of its alumni having achieved creditable positions not only in the field of dentistry but elsewhere too, both nationally and internationally.